Educators Among Us Podcast

The Educators Among Us Podcast is a weekly program and an online publication to elevate and encourage educators with motivational messages, and inspirational educator stories.
Be inspired each week with words of wisdom and encouragement, by educators for educators. Hear stories from other educators about their calling to education, the challenges they've faced, and what has inspired them along their journey.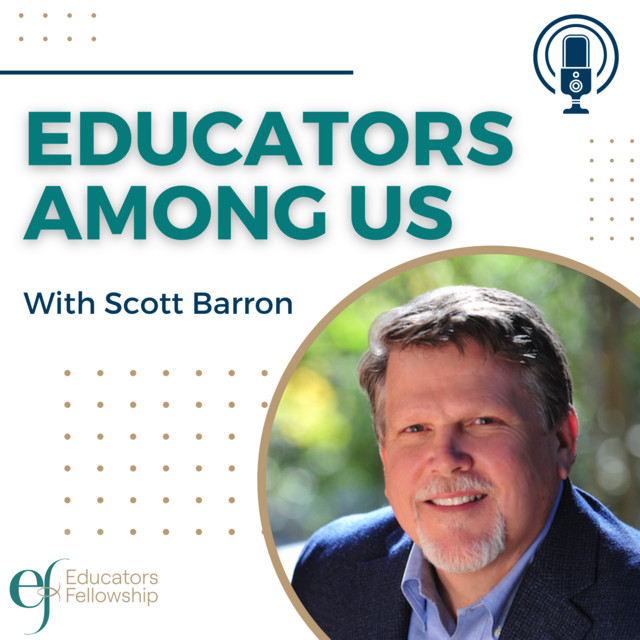 Listen to the Latest Episodes of the Educators Among Us Podcast
Coming Soon!
Featured Educators Among Us Stories
Through personal interviews conducted by Educators Fellowship, we'll share the stories of our profession's unsung heroes. Learn about educators from around the world – their trials, successes, and inspirations. Ever wonder why most educators are called to the field? We'll query educators about their motivation, whether it was a favorite teacher from their past or a desire to make calculus more interesting.
Check back soon for a featured educator story each month.
Nominate an Educator
If you know an educator who has a great story or you would like to tell yours, contact us by clicking here.
Love'em and Lead'em
By Scott Barron
The essence of Educators Fellowship is captured in Love 'em and Lead 'em: Inspiration and Encouragement for Educators, a book written by our Director Scott Barron to encourage and inspire educators. In his writing, Scott uses devotion-style messages to lift up and empower all educators no matter their role in a child's education, just as Educator Fellowship does through connection and communication.
Love 'em and Lead 'em can become your handbook for daily encouragement as well as a tool for encouraging other educators at your school. Order a copy today, and share it with your staff and friends.
All proceeds got to Educators Fellowship, the nonprofit that funds Educators Among Us.